Ben Clanton: Triple Header
Confession: I have a bit of a book crush. No, not a crush on a boy in a book. But a book crush, or an author-illustrator crush because I'm absolutely, positively IN LOVE with all of Ben Clanton's books. Today I'll share just three of them.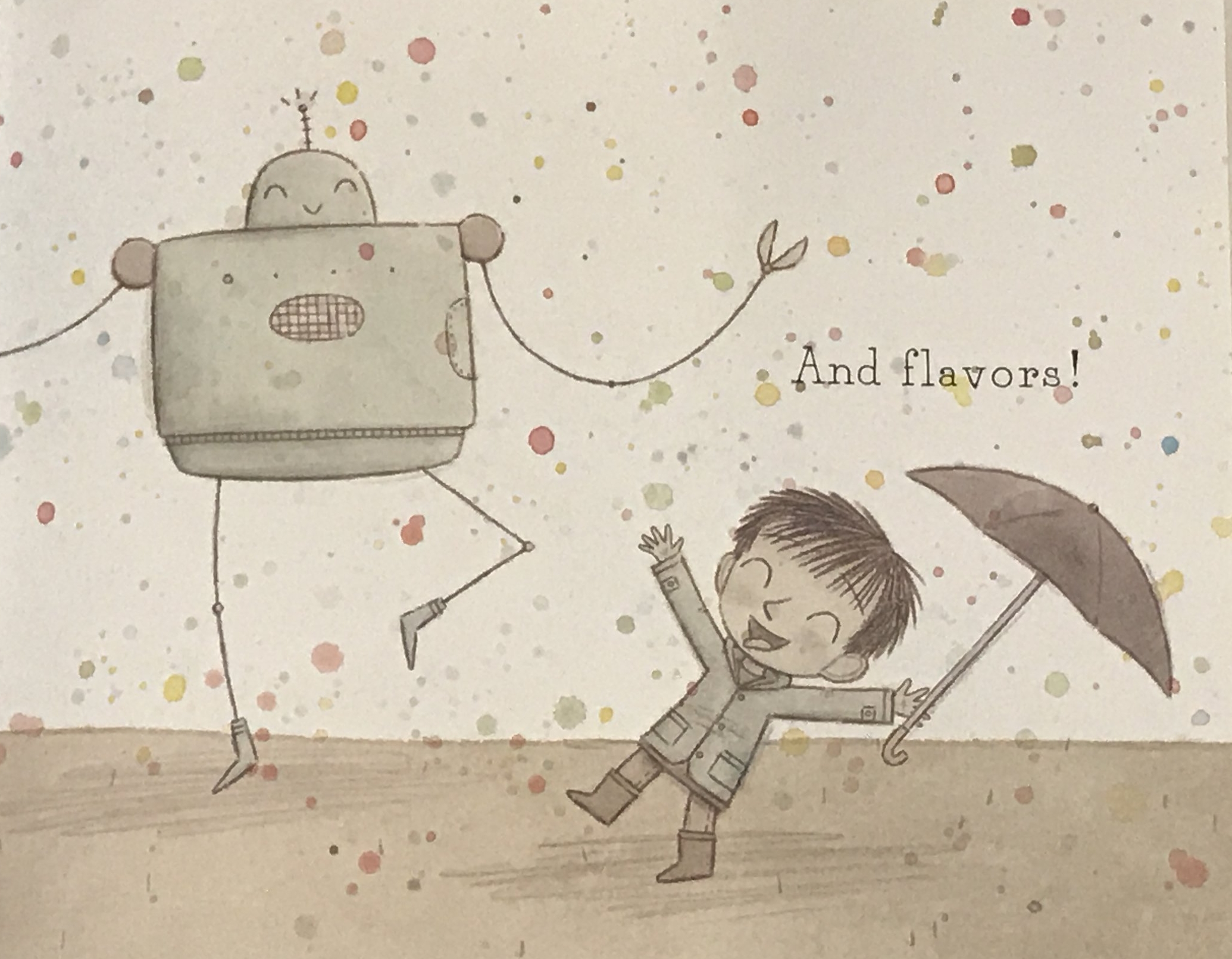 Something Extraordinary
I've over-borrowed this library book. Again. I'm a champion at over-borrowing. But I just love the message behind Something Extraordinary so I held onto it. An imaginative boy tells the reader his wishes while his robot friend accompanies him on his adventures. The bottom line is that he learns to appreciate the world around him. Set within the beautiful ordinary and the extraordinary, this book is also accompanied by Clanton's endearing illustrations.
We have wished on a number of dandelions in this household. And also on fallen eyelashes. You blow them away and make a wish just like with dandelions. I find it fitting as my mom always told me how when I was a newborn, she watched as my eyelashes grew in one by one. And when I first had Mini Me, that's exactly what I spent my maternity leave doing—watching her eyelashes come in. So it is definitely fitting that when my girls' eyelashes fall out across their cheeks, we make wishes. Just like the boy in Something Extraordinary, I hope that my girls never lose sight of the wonder that the world holds for them.
Narwhal and Jelly
I'm pretty sure that most parents of school-aged kids have heard about Narwhal and Jelly. I had a very excited conversation about this series with one of my patient families. The only thing MORE exciting than the fact that there is a third book being released next month? (Peanut Butter and Jelly) The fact that Merry Makers makes finger puppets of this dynamic duo! If it wasn't flu season and the fact that I can't easily wash them between patients, I'd get a set for the office.
For those of you NOT in the know (all three of you), Narwhal: Unicorn of the Sea is a sort of early graphic novel. Think of it as a cross between a picture book and an early reader like Mo Willems' Elephant and Piggie series (yet another dynamic duo) with some comic strip scenes thrown in for good measure.
It's a fun, silly, and easy read, which will build confidence especially in non-readers. Plus, Clanton coined the phrase #podgoals. What more is there to say?
Yes, we have two copies. Well, had. I had ordered one through Scholastic (Yes, I love ordering through their flyers just like I did when I was a kid.) and then purchased one during a conference. Solution? I sent one to my nephew. :D I hope he likes it.
It Came in the Mail
I'm old school. I love letters. I've written many, especially when I was growing up, and I still have many from my friends. Combining mail with dragons? And the whimsical? Well, that's just the brilliance that is Ben Clanton. In It Came in the Mail, a little boy asks for something in the mail—it's not really a spoiler to tell you that he receives a dragon. But then the things keep coming. He and his friend find a perfect solution.
When I say that I love the whimsical nature of this book, I'm underselling it. The puns, the characters, the conflict in this story is all so CHARMING. One of my all-time faves.
Tell Dr. Bookworm!
Do you have a children's book writer or illustrator that you absolutely love? And must buy all their books? Let me know who it is in the comments.