Twelve Picture Books for the Twelve Days of Christmas
When Mini Me Bookworm was going over her Christmas wish list—yes both girls made them A FEW WEEKS AGO—she had a whole list of books plus other book or writing-related things. My sisters like to shop early so they were asking me for their wish lists and I verbally told them a few items, but they were items that Mini Me likely needs to pick out. When I talked to Mini Me about it, she asked about her books and stated that "books are more special when they come from someone you love". Well said, Mini-Me, well said.
With her words in mind, I decided that I would do a 12 Days of Christmas picture book list for the 12 must-have picture books for your home library. These picture books include some classics and some newer ones, but what they all have in common is that special combination of having a stellar story line PLUS gorgeous illustrations to go along with that story line. As I've said before, sometimes it's hard to achieve both.
1. If You Give A Mouse A Cookie by Laura Numeroff and illustrated by Felicia Bond: I could have chosen any of the books in this series as they are all good, but I chose this one because it's the original. A bit of rhyme, a bit of sitcom-type plot, and it all comes back full circle. Plus, I love all the details in the illustration and the emphasis on friendship in all of these books.
2. Creepy Carrots by Aaron Reynolds and illustrated by Peter Brown: I first heard of this book during a SCBWI writing conference and it was love at first sight. Who wouldn't love the two-three toned colors of this book? All the illustrations are done in black and white and orange lending the story a gothic, creepy type of tone. But, of course, in the end, it's not creepy at all. Just some clever carrots.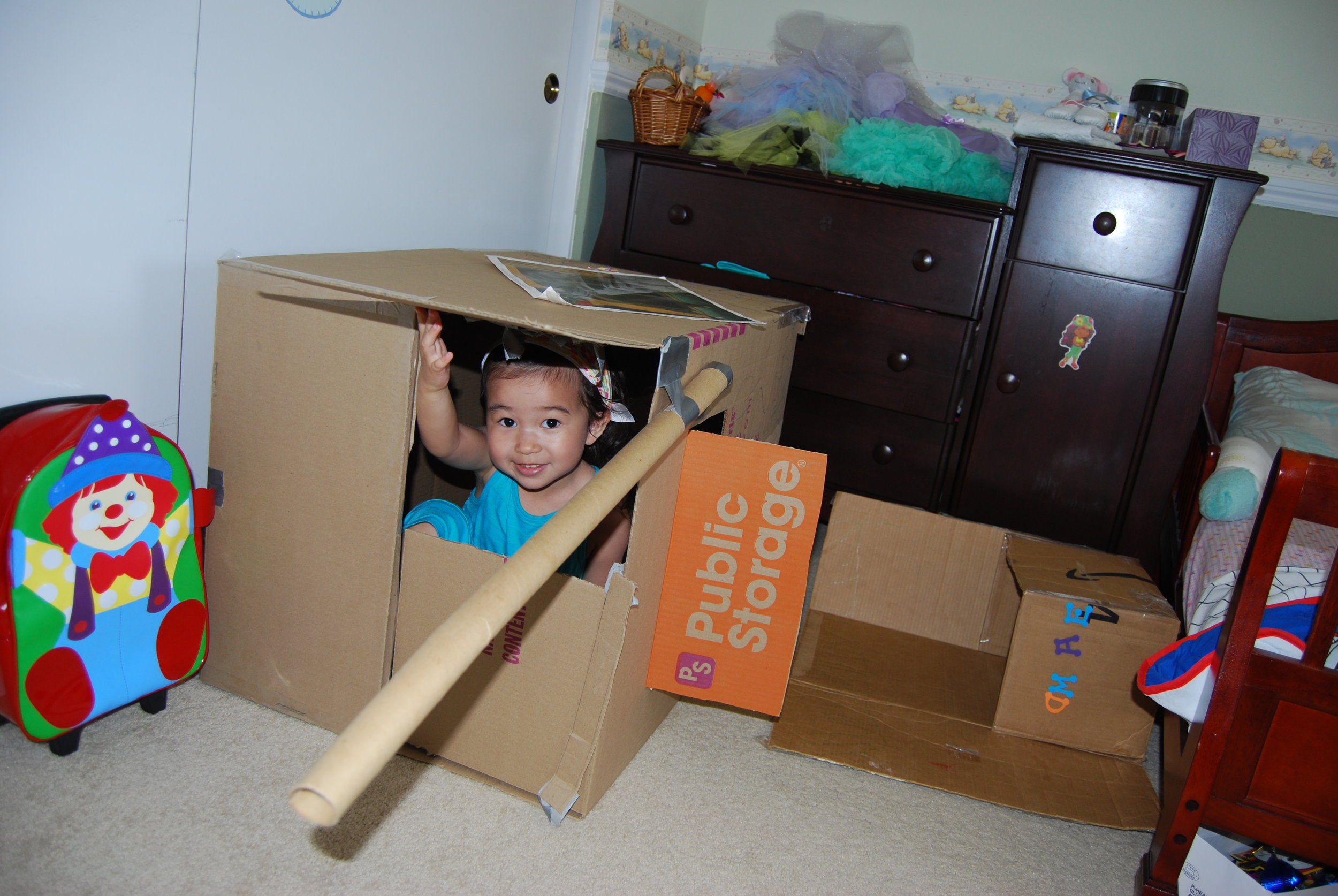 3. Not a Box by Antoinette Portis: It's true that my kids have always loved playing in or around boxes. We've even cut up several to make playhouses and I still miss the 'bakery' one that Mini Me had as a tot. Mr. Bookworm even cut out a bakery window complete with shelf. Simple but divine. They best thing about playhouses made out of cardboard? You can draw or paint on them! And we have, many times. So Not A Box is close to my heart as the rabbit creates many imaginative pieces with his not-a-box. As I'm sure many of you parents would understand.
4. Harold and the Purple Crayon by Crockett Johnson: As I said in my review, I'm sure that Aaron Becker of the Journey trilogy was at least partially inspired by this book. Harold uses his crayon to create a world of his imagination. And a way to get back when it's time to sleep. This book always reminds me of my twin sister as I believe it was a favorite of hers when we were growing up. So I imagine Harold as her, drawing her way to find her dreams.
5. Click, Clack, Moo: Cows That Type by Doreen Cronin and illustrated by Betsy Lewin: This book is where I first met Duck, my vote in this year's election. If you've seen my Instagram account, you know what I'm talking about. And even though I've never read Duck for President, I firmly believe(d) in Duck's candidacy because of his ability to get things done. Click, Clack, Moo is a funny rendition of what happens when the farm animals go on strike. And the methods they use to convince Farmer Brown about what is truly needed around the farm.
6. Where the Wild Things Are by Maurice Sendak is a classic in every sense of the word. From the famous 'wild things' to Max in his crowned costume and more, everyone should recognize these illustrations. As I've read and re-read this book, I also have come to appreciate the simplicity of one of its messages—no matter how mad you think your parents are at you or how mad you are at them, they are always waiting for you when you come back.
7. Knuffle Bunny by Mo Willems: Whether you say 'kah-nuffle' or 'nuffle', I'm pretty sure that you will be mesmerized by Willems' combination of photography with illustration in this series. Plus Mr. Bookworm and I like to quote 'she went boneless' to each other when our girls go boneless.
8. Once Upon an Alphabet by Oliver Jeffers: I confess that we don't own this book. However, someone small and feline might be receiving one for Christmas, especially as we held on to the library book for so long. I love the quirkiness of each little letter story, and especially the ones that tie back together. This book never gets boring.
9.The Hello Goodbye Window by Norton Juster and illustrated by Chris Rashcka: I've mentioned this book many times before, including recently when I wrote about books that promote thought. I grew up with my Lola and Lolo (grandparents in Tagalog) and was very close to them. So I understand just how special it is when the little girl goes to visit her Nonni and Papa in The Hello Goodbye Window. And though I didn't grow up in a mixed household (debatable since my dad is Chinese and my mom is Filipino, a big no-no at one time in the Philippines), I love that the grandparents just happen to be a mixed couple. And my kids are mixed too, albeit in a different way.

10. We discovered How Rocket Learned to Read when Little Lion Bookworm was in Pre-K. Tad Hills already had my heart with his Duck and Goose series as I love friendship stories, but I also have always loved ducks. So when I read How Rocket Learned to Read, you can only imagine how delighted I was that Hills designed a picture book about learning how to read! Something close to my heart, especially as we were trying hard to teach Little Lion to read at the time. It's been an interesting experience for us, as I've stated in our 'About Us' section, since Mini Me self-taught herself to read. There have been ups and downs and confidence and lack there-of. Little Lion has been frustrated as the baby of the family. However, yesterday morning she proudly announced to me "I LOVE to read and I LOVE to write and I LOVE to eat!" Yup, she's definitely mine. Rocket is a dog who learns to read despite not realizing that he would want to learn how—and, in classic Tad Hills fashion, he makes a good friend along the way. This book is perfect both for emerging readers and bookworms alike.
11. April and Esme Tooth Fairies by Bob Graham: I'm a big fan of Bob Graham and his series of books including this one, Oscar's Half Birthday and "Let's Get a Pup!" Said Kate. The reason I chose this book in particular is because Graham weaves a fun story line surrounding a tooth fairy in training and her younger sister. The pictures are charming and delightful and the tooth fairy family is quirky. And they tie up the retrieved tooth to the rafters! Plus there's so much to look at and ponder about the location of the tooth fairy house. Graham is an expert at illustrating nonconformist families. What more can you ask for?
12. Finally we reach Flotsam by David Wiesner. This book is the epitome of wordless picture books. Not only are the illustrations gorgeous, but there is so much in the detail of the main and side story lines that even if it doesn't have any words, I'm counting it in the duality of my list. Because both story lines coincide and because the stories make you think a little harder. Plus, there are steampunk sea animals involved.

There you have it—twelve must-have picture books for your home library for the twelve days of Christmas. I recommend one for each day. (And for those who don't celebrate Christmas, I apologize. But the Twelve Days were hard to resist and now that song is playing on loop in my head.)
It's Giveaway Time!
I'm hosting a giveaway contest! If you would like to win one of the picture books listed above in the 12 Books for Christmas, please enter your information in the form located in the side bar. You can enter once on the blog and also on my Instagram account. U.S. residents only. We will not spam your email account, but if you would like to sign up for our newsletter, please feel free to sign up below.
ETA: The giveaway closed on Dec 7, 2016. We randomly chose a name out of a hat (AKA Star Wars bowl) from all the entries and Cara P won! We are sending her a copy of April and Esme Tooth Fairies by Bob Graham. Congratulations, Cara!