Dear Ten-Year-Old Shannon Hale, I want to be your friend
Dear Ten-Year-Old Shannon Hale,
I want to be your friend. Except, the GROUP would stress me out. But I think we had similar experiences, right down to the fact that you started kindergarten at the same time as me.
Fifth grade was rough for me. My best friend at the time disowned me. (At least it felt that way....if you happen to be reading this, you may remember things differently.) And it was lonely. And then....I made new friends. And new ones again. I maybe hopped around a bit, until I found a few kindred spirits.
But all those tiny moments of insecurity and awkwardness--those I still remember. However, they don't define me.
I love that you wrote your experiences in such a real and raw way.
Sincerely,
Ten-Year-0ld Melanie Cheng AKA later to become Melanie Tioleco-Cheng (long story, not my married name, just my hyphenated maiden name) AKA Doctor Bookworm, who no longer has friendship issues.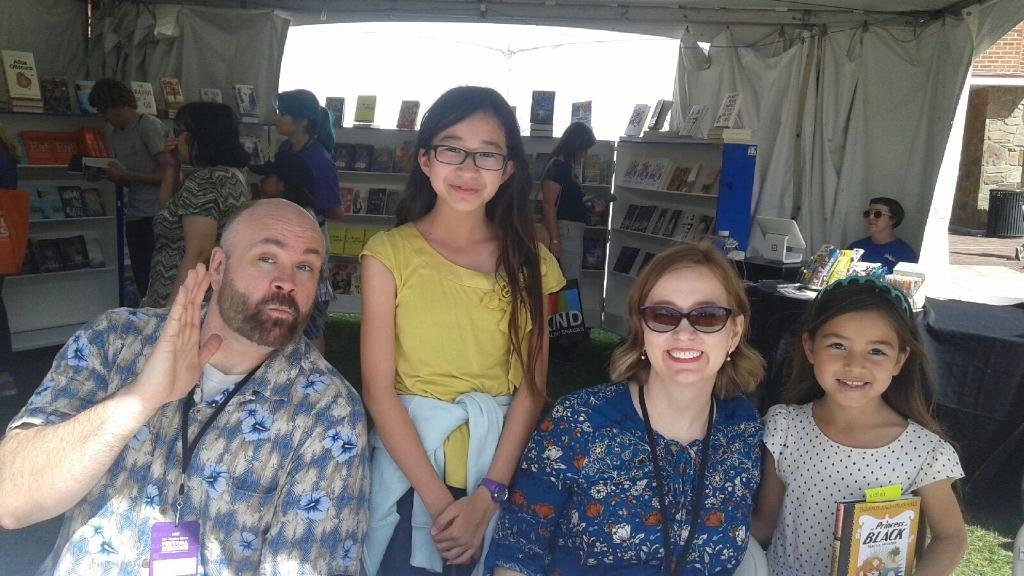 Dear Present-Day Shannon Hale (and LeUyen Pham too!)
I want to say a big 'THANK YOU' for sharing your memoir in graphic novel form in Real Friends. I admit that I didn't realize when I purchased this book that it was a memoir. What I did know is that we have enjoyed several of your books, including The Princess in Black series.
Why do I want to say 'thank you' and maybe also give you a big (non-stalkerish) hug?
Because I have two girls, Mini Me Bookworm and Little Lion Bookworm. You and your husband, Dean Hale, were so GRACIOUS when they met you at the L.A. Times Festival of Books in April.
Mini Me is finishing up 5th grade and has read Real Friends several times over. She and I haven't discussed it yet, but I love that you normalize the friendship issues and the anxiety that occurs over these issues.
As a mother of girls, I've seen both of them navigate through friendship issues and in and out of the emotional turmoil that growing up can bring. Let's face it: we are lucky. My girls have nothing but 'First World Problems'. But when there is something going on between you and one of your close friends, it's a BIG DEAL at age five, six, seven....infinity. And, as I've found out with most things as a parent, my heart aches even more when my girls have their feelings hurt or are sad. And I won't go into details out of respect for them, but there are so many little things that happen.
And I'm here to listen. However, sometimes it's nice for them to work things out in their own heads--Mr. Bookworm and I can only say so much. And since my girls are Bookworms to the nth degree, reading about your own experiences makes such a difference.
So, thank you, Shannon Hale, for being brave and sharing your story. And thank you, LeUyen Pham, for lending your talents in the gorgeous illustrations within Real Friends. I especially love the 'imagination' sequences where Shannon creates wonderful games for her and her friends to play.
You are both making a difference to our young ones. Especially ones like mine who have wonderful imaginations and play exactly how fictional Shannon (and I imagine the real 5-11 year old you) played. They are always writing stories in their minds and on paper.
Sincerely,
Present-day Melanie Tioleco-Cheng AKA Dr. Bookworm
PS Thank you for making a princess who is also a ninja/superhero.
Please note: In honor of Hale's bravery at the end of Real Friends, I also dug up my 5th grade pic. Apparently, we signed across our yearbook pics back then? And, yes, I cropped it to respect my fellow classmates during their own awkward ages.... I do remember fixing my ponytail perfectly that morning and then they didn't take our pictures until after recess....wish I had left my hair down instead. I'm still traumatized by the bowl cut I had in kindergarten so at least I don't look like a boy here. Also pictured in this slide show are some scenes from Real Friends.