First Pages: The Little Prince
I have a copy of The Little Prince from when I was at UCLA. I remember purchasing it at the Borders bookstore that was on Wilshire—in fact the receipt is still in the above book from May 20, 1995. While you could take the bus there, Mr. Bookworm and I would often walk down there on a Friday or a Saturday night so we could browse through the books. You can see why we're kindred spirits, my husband and me, as that was our ideal date.
I remember looking for a French version (the original language version) for my Lola (my grandma). Lola had an affinity for learning languages and was fluent in Spanish and French, as well as English, Tagalog, and Kampampangan. I'm sure there are other languages as well. And even though my version is in English, I will always associate The Little Prince with my Lola, my second mother.
What I love about The Little Prince is that there are so many instances of showing how one's viewpoint can change as one gets older, and not necessarily for the better. Saint-Exupery invites us to hold onto our inner child, while also teaching us about unconditional love. I can sense in so many ways to how much this book connects me back to my Lola.
First Lines of The LIttle Prince: Right away Antoine de Saint Exupery presents us with a conundrum--which way are we going to see the world? Through the eyes of a child, or through the eyes of a grown-up? Of course you think we're going to side one way, when in reality the moral of the story is a bit opposite. The narrator talks about essentially having his spirit tamed and throwing away his pathway toward becoming 'a magnificent painter'. While it's hinting that the novel will be a coming-of-age of sorts, it's also establishing the fable-like tone of the novel.
And in actuality, if you only look at what I've posted above, you haven't yet realized the point of the opening paragraphs, which is how the narrator has had his first dreams crushed. Though I am intrigued right away to see what he has to say because as much as I'd like to say that I immediately see an elephant swallowed by a snake, I see a hat at first. And then we immediately meet the little prince who immediately demands the narrator to draw him a sheep. The little prince is mysterious and engaging all at once. What I've discovered in these first pages dissections time and again is that the key to first pages that draw the reader in is a little bit of mystery, enough to create a page turner. And then another page turner and then another until the reader is so invested that they simply cannot put the book down.
Tell Dr. Bookworm
The featured photo has my copy of The Little Prince with my wall art by Gorjuss entitled "Because She is My Rose", clearly inspired by this book. How has another work of art influenced one of your own creative pieces?
Do you see a hat or an elephant inside a snake?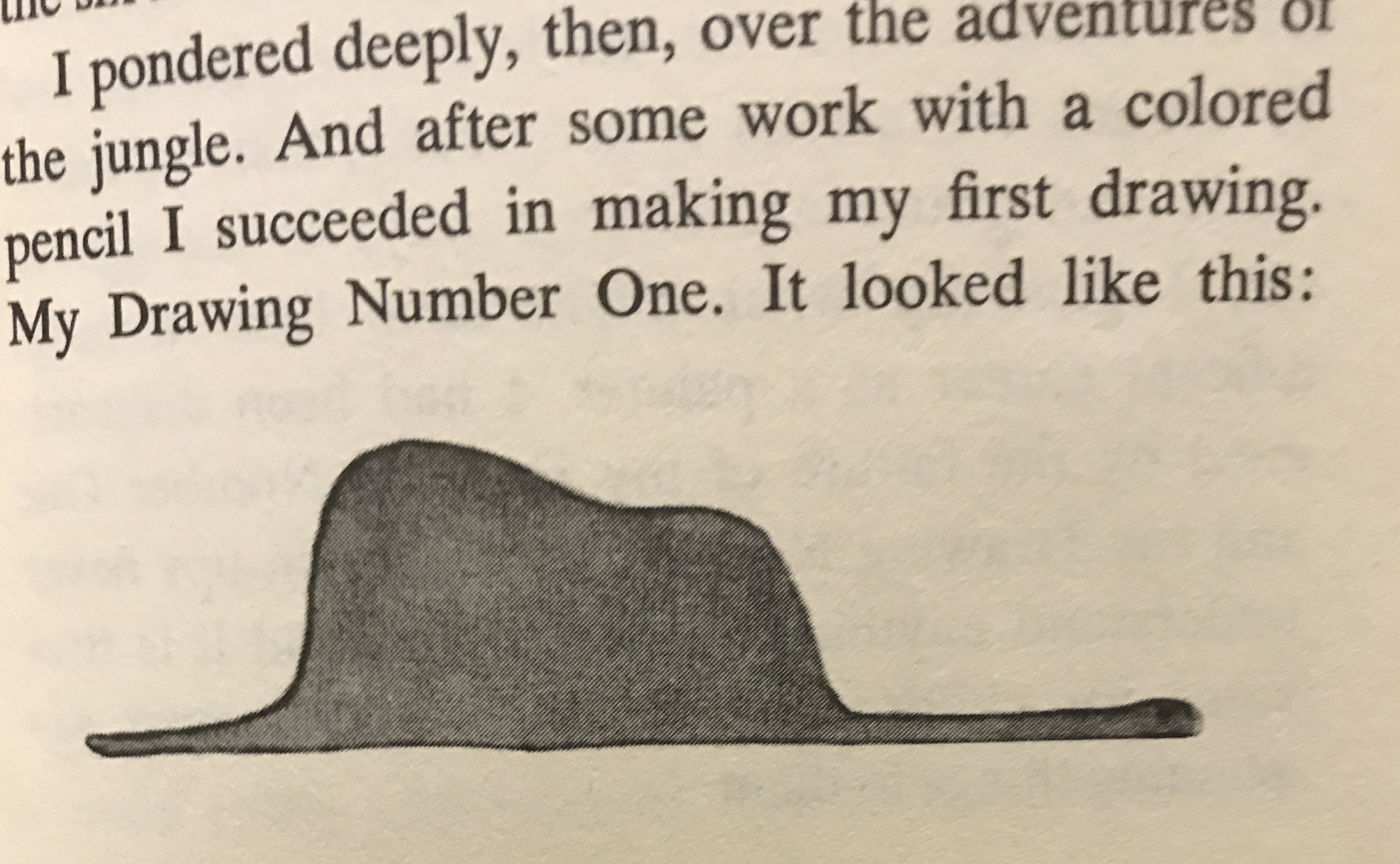 Gorjuss' "Because She is My Rose", Drawing Number One and Drawing Number Two from The Little Prince Antoine de Saint Exupery